How Not to Age: Book Launch with Michael Greger, MD
12/06/2023 04:00 PM - 05:30 PM ET
Admission
$35.00 - Admittance plus How Not to Age
$50.00 - Admittance plus How Not to Age, and your choice of either How Not to Die or How Not to Diet
$65.00 - Admittance plus all three books
Location
SUNY Downstate Alumni Auditorium
395 Lenox Road
Brooklyn, NY 11203
United States of America

Description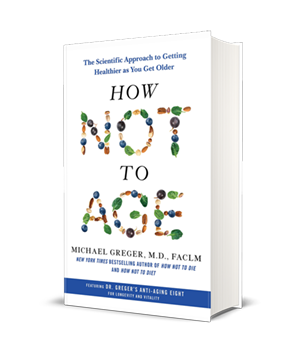 Please note that we may run out of copies of How Not to Age, so anyone who purchases a ticket for this event in the final 24 hours prior may receive a copy in the mail later.
Getting older does not have to mean getting sicker. What are the secrets of longevity and healthy aging? New York Times bestselling author Michael Greger, MD, and founder of NutritionFacts.org, comes to New York City this winter to reveal the results of his extensive review of the medical research captured in his forthcoming book, How Not to Age: The Scientific Approach to Getting Healthier as You Get Older (Flatiron Books, 2023).
Inspired by the dietary and lifestyle patterns of centenarians and residents of "blue zone" regions where people live the longest, Dr. Greger presents simple, accessible, and evidence-based methods to preserve the body functions that keep you feeling youthful, both physically and mentally. Brimming with expertise and actionable takeaways, How Not to Age lays out practical strategies for achieving ultimate longevity.
Each ticket includes a copy of How Not to Age, though you may choose other ticket options that add on a copy of Dr. Greger's other bestselling books: How Not to Die and/or How Not to Diet. When you arrive, please go to the check-in table to retrieve your book(s).
Dr. Greger will sign books after his talk, but please note that books are not permitted to be sold on site. Staff and students at SUNY Downstate can access this event at no charge but must purchase books in advance either here or through a bookseller.
Please note that Dr. Greger will be giving the same talk again on Thursday, December 7, at the Marlene Meyerson JCC Manhattan, also presented with Plant Powered Metro New York: https://bit.ly/46MrOhz