Health Freedom Walk: A White Plains Tour & Tasting Honoring Dr. King
01/16/2023 04:30 PM - 06:30 PM ET
Admission
Location
Martin Luther King, Jr. Westchester County Memorial
111 Dr. Martin Luther King Jr Blvd
White Plains, NY 10601

Description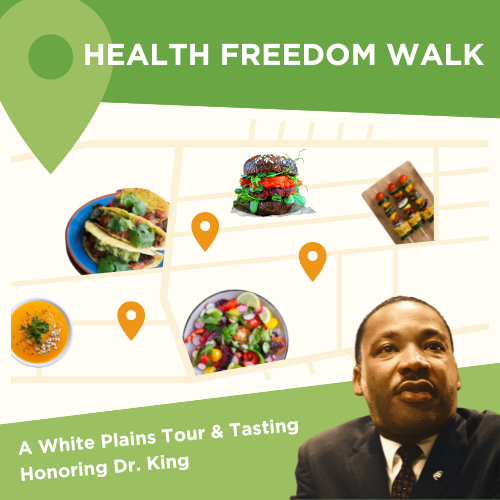 Celebrate the work and life of Dr. Martin Luther King, Jr. as we experience how nutritious food gives rise to hope, healing, and health equality.

Join our walk in White Plains from the Martin Luther King, Jr. Westchester County Memorial to Cravin' Jamaican Cuisine, a local restaurant where the chef has, in partnership with PPMNY, curated a special dish just for our group: "Freedom Meal," a Caribbean veggie stew with steamed cabbage and plantains.

The walk begins at the memorial which is in front of the Westchester County Courthouse at 111 Dr. Martin Luther King Jr Blvd.

A $5 donation to PPMNY is required to hold your spot. Participants will pay on-site approx. $10 for the dish, and you may add on from the regular menu as you wish.

Hosted by PPMNY volunteers Rhonda Carr, OD, and Chef Kristen Loudermilk.